Tripawds is a user-supported community. Thank you for your support!
National Cat Day, I hear…
It has been MONTHS!  Since I last updated, we've all moved to California.  Our cats LOVED the 6-hour road trip from Phoenix.  False.  They hated it.  I took our little girl and she meowed for the first three hours (and then of course, when she got quiet and fell asleep I assumed something was wrong with her), and my husband took Fredo and had an equally fun time.
So, a few pictures and then my latest struggle.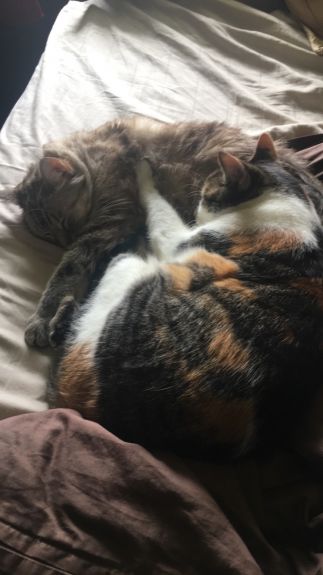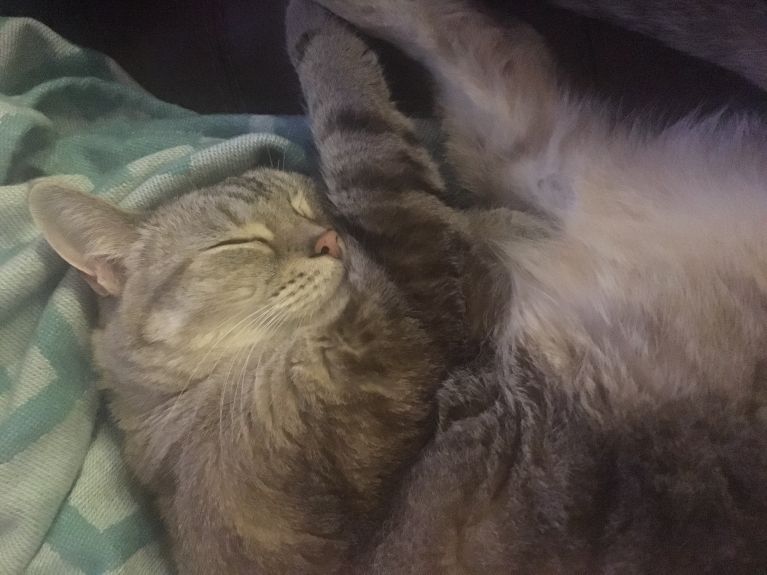 OKAY, now… 
Fredo has always been a puker.  He gets a nervous stomach from just about everything; I know I've talked about this before.  If his dish gets too empty (never actually empty, mind you) he will wake the house in the middle of the night by sitting in the hallway meowing.  So, we feed him, and then he eats at hyper-speed and throws up.  Just an example.  Sometimes, it's a hairball.  So LATELY he's been doing the whole heaving thing and very little comes up, so of course I have gone to Google, and I'm told this can be a sign of blockage somewhere in the digestive tract.  Occasionally there is semi-digested food.  Then my husband made some joke about Daphne (other cat) gaining weight while Fredo seems to be getting smaller.  One thing that is true of tripawd kitties is that they sometimes tend to put on some weight due to decreased activity.  This has certainly been true for Fredo, but I wouldn't say he's ever verged on unhealthy.  So, anyway, he hasn't been officially weighed since his last chemo appointment last August or September, and he was around 10 pounds consistently.  I weighed him today and he is 8.8!!!  Over 10% lost!  So, I'm freaking out.  He hasn't been eating much, and when he does, he eventually throws up some of it.
What to doooooo.  Help me, Tripawd peeps.  We're new to the area and haven't established him with a new vet, and we JUST paid off his surgery and chemo in July.  I'm understandably hesitant about putting him through more vet visits and incurring more expenses.  I don't even know how they treat a blockage, if that's what it is.  Any holistic solutions out there?   I hate to think we put him through all of this just to get an extra year and a half out of him.  🙁 Of course my mind goes to the absolute worst.  I can't wrap my head around losing him now.  So, all comments and suggestions welcome.
As a side note, I verged into cat lady territory and watched The Truth About Cats, which dug into the science behind the evolution of kitties.  So remarkable.  Cat lady for life.  <3 Go hug your kitties and wish them a Happy Cat Day!!