Tripawds is a user-supported community. Thank you for your support!
Hey there,
Not too much new over here with the big guy… who is now a little guy.  You guys, I truly do not know what to do to get him to gain weight.  I haven't weighed him lately but if I had to guess he's around 7 pounds.  He was just about 10 pounds after amputation.  He does eat, and his appetite seems fine.  I truly think it's because his teeth are in such rough shape, so he has a harder time eating as much food as he may want to.  I've tried wet food in every possible way… he will not touch it.  I don't want to COMPLETELY take away his dry food and force him to eat the wet food because at this point, any food is better than no food.  He is 100% skeptical of whipped cream now (since I tried and failed when hiding pills in there–even crushed up).  He's always been a fan of cake frosting, so I might just go buy him a cake and see what happens.
When he's not around, I've been misting water on his hard food to attempt to soften it a little bit for him.. I think this isn't NOT working, but I just don't know.  I feel like he's eventually going to get so skinny and his little body won't be able to sustain how hard his heart and lungs are already working.
As a reminder, it's been three months since the doc told us he has probably about six months left.  He's on daily pain meds, but I don't see a ton of signs of pain, honestly.  He occasionally has breathing attacks, but he's getting around fine.  He's certainly not as social as he was, maybe because he always assumes I'm trying to medicate him.  But he doesn't play as much either.  But his bathroom habits and food and water all seem to be fine.  Aside from just not eating enough.  (How is it that his sister who eats maybe 1/4c of food daily just keeps packing on the weight???  She is so chubby.)
On a positive note, we're moving OUT of the house with the dog in a little less than a month.  The new place will also be carpeted versus hardwood floors.. he has a hard time with the wood floors I think.  Just less "give" haha.  I'll also be able to control the environmental factors a little better, so less stuff in the air for both the kiddos, and it'll just be cleaner in general.  My poor little girl has really bad seasonal allergies right now, so I'm looking forward to that change as well.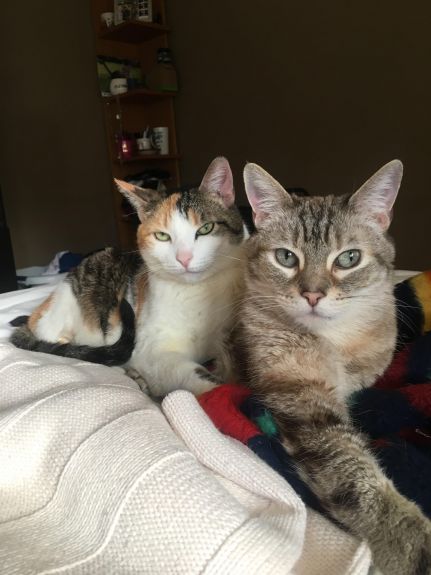 So, not much else to say.  Any suggestions on how to get a picky, dry food-addicted cat with bad teeth to eat more??  All suggestions welcome.  Have a good one!