Tripawds is a user-supported community. Thank you for your support!
Hey all,
So when I thought of chemo graduation, I was like, maybe I can get a tiny graduation hat, or a party hat… or something.. would you believe those aren't marketed more?  Anyway, I nixed the idea because it truly screams "cat lady."  Just kidding, it's because I couldn't find a tiny graduation hat on Amazon without having to buy seven others.
Let me back up.  I begrudgingly brought the kiddo to his "last" appointment.  I use quotes because it's obviously not his last appointment, but whatever.  I just feel so BAD.  Is this prepping me for parenthood?  Because ugh.  I know cats are resilient, but still.  He's gotta be SO OVER this.
They did the last doxorubicin infusion and also scanned his lungs, did x-rays, ultrasound, etc etc.  I don't really know; I just went with the flow and paid the very expensive bill at the end.  Our Care Credit is officially maxed (despite making continuous payments).  Ah, life.  But I digress.
He peed on his towel.  I don't really know what life is like during these appointments, since I dropped him off and came back when they called.   So I really don't know if he was nervous or upset or didn't have an access to a litter box?  Who knows.  But it's over!
Oh, most importantly: all of the tests came back clear and the vet is comfortable saying that he is completely healthy at this point.  HOWEVER, we will return in three months for another terribly expensive appointment.  LOL.  Can you tell I'm a little overwhelmed by the cost of this?  At least it's becoming less frequent.  He'll have appointments every three months for the first year, then we'll scale back.  So for now, a little peace in Fredo's world.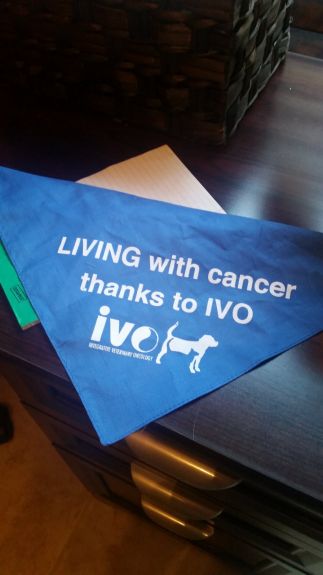 So, back to that hat thing.  It's good I didn't get it because he wouldn't even get near this bandana.  What a party pooper!!
Then I thought I'd do like the cute things where people make signs and up them next to their pets and everyone is all cooperative..
NOT MY CAT.  He finally let me get this close to him, I had to prop up the little signs a few feet away and he occasionally offered a glance in my basic direction but basically just ignored me while I was laying on the floor.  Whatever, man.  (Side note: look how great his terrible amputation haircut has grown back in!)
So yeah he wasn't super fond of me yesterday, as usual.  And the office shaved his belly.  We're all pretty excited that he has no new funky haircuts coming his way.
LAST PICTURE.  I did a whisker-loss comparison for good time's sake, and also because I was very curious how this side effect would be for him.  The doc said initially they might fall out, they might not, they could grow back normally, they could grow back weird… etc.  The regrowth remains to be seen, but here's after 5 chemo sessions compared to before his first session: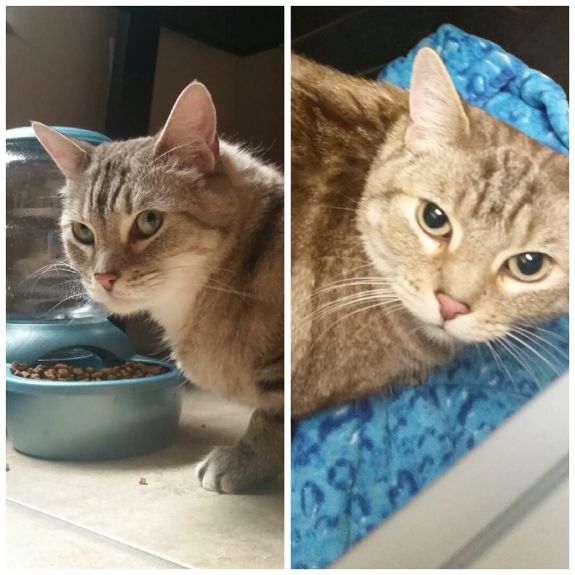 Look at that face!  <3  So the whiskers are pretty sparse, but it could be worse of course.
Until next time.. thanks for reading this crazily disorganized chemo update.