Tripawds is a user-supported community. Thank you for your support!
Hello all!  Happy New Year!
Fredo just hit his 10-month post amputation mark.  He's still scratching himself with his invisible leg, but still gets around like a champ.  I still need to buy some bed stairs, I'm a bad cat owner… but I want the right ones.  LOL.  Picky..
I know there are a few Tripawd 2016 calendars floating around out there.. have you seen one of the Mr. Februarys?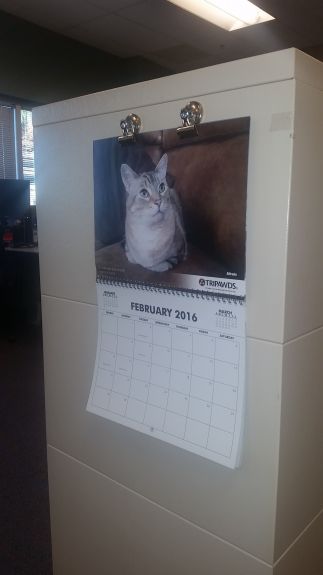 So handsome!  I realize he looks less like a tripawd and more like a legless cat here, but his face was just so cute.
So I've mentioned that I switched to Blue Wilderness, and the cats' taste buds seemed to have adjusted fairly well.  HOWEVER, I noticed this on the little cat: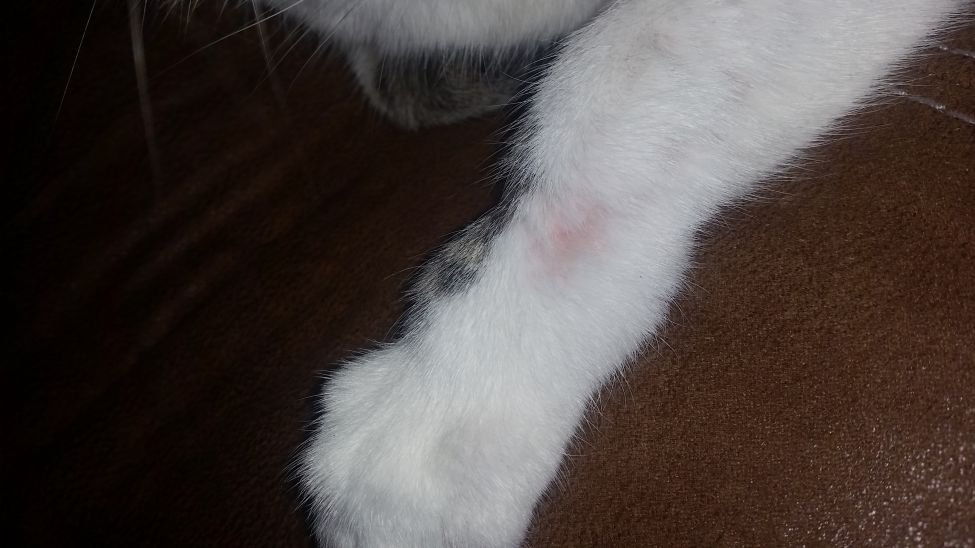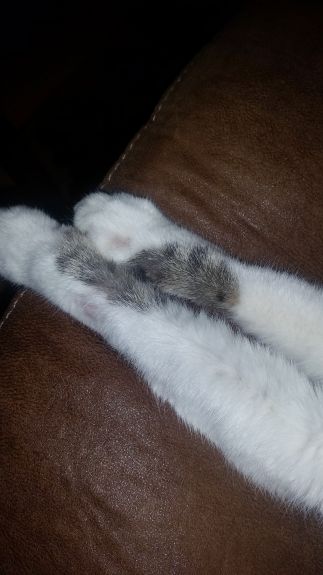 Doesn't look like much, but there are patches of missing fur all over her legs (more than just these pictures).  I've been noticing that she's biting at her feet occasionally, but nothing excessive.  I can only wonder if it's an allergic reaction to something… the most obvious answer would be the food.  But this change was made a few months ago.  Other than that, they are indoor cats and not exposed to any new elements very often.
Any amateur kitty diagnosticians out there?  Haha.  NO MORE VET BILLS!  Please!!  😉
Fredo goes back to the vet this month.  I'll come back for a report, and one of these days I do want to try to get an updated video of the little guy.
Happy February!